11h 33min, jan 1, 1577 y - 1577:Sir Francis Drake circumnavigate's the Globe
Description:
Sir Francis Drake's voyage was from 1577-1580. Drake headed north in search of a passage back to the Atlantic. He traveled to Canada before extreme cold conditions made him go back. Drake anchored near San Francisco and claimed the surrounding land, which he called New Albion, for Queen Elizabeth. He went back west across the Pacific in July 1579, and stopped in the Philippines in the Molucca Islands. He sailed around the Cape of Good Hope and arrived back in England's Plymouth Harbor in September, 1580. Drake was honored as the first Englishman to circumnavigate the globe and became a well known hero. After his return, Queen Elizabeth personally knighted him aboard the Golden Hind.
Added to timeline: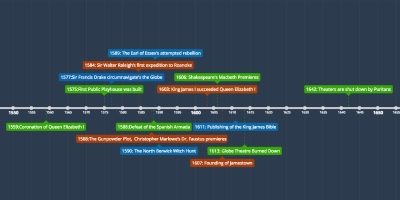 English Timeline
Each partner group completed one event and the research was ...
Date: