jan 1, 1642 - 1642: Theaters are shut down by Puritans
Description:
1642: The closing of theaters in England took place during 1642-1660 after the English Civil War put the Puritans in power over the Throne of England. Religion had long dictated the policy and the ruling style of the Monarchs of England and since the Puritans shunned entertainment of any kind, they shut down the theaters all over England, because they viewed it as wicked and unholy. However people kept going and did not listen to the rules and laws, however these people were arrested. This continued until the Restoration of Charles in 1660, when he reopened the theaters to everyone, much to the delight of the people.
Added to timeline: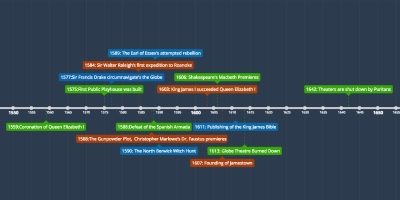 English Timeline
Each partner group completed one event and the research was ...
Date: