4h 55min, jul 29, 1588 y - 1588:Defeat of the Spanish Armada
Description:
Off the coast of Gravelines, France, Spain's so-called "Invincible Armada" is defeated by an English naval force under the command of Lord Charles Howard and Sir Francis Drake. Spanish fleet consisted of about 130 ships with about 8,000 seamen and possibly as many as 19,000 soldiers. Queen Elizabeth's decisive defeat of the Invincible Armada made England a world-class power and introduced effective long-range weapons into naval warfare for the first time, ending the era of boarding and close-quarter fighting.
Added to timeline: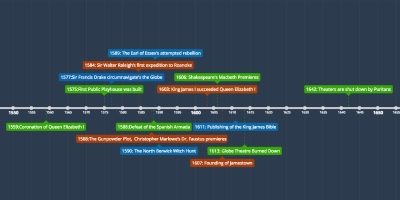 English Timeline
Each partner group completed one event and the research was ...
Date: