10h 1min, jan 15, 1559 y - 1559:Coronation of Queen Elizabeth I
Description:
Elizabeth I was Queen of England and Ireland from 17 November 1558 until her death. Elizabeth ascended the throne at the age of 25, upon the death of her father, King George VI, on 6 February 1952, and was proclaimed queen by her various privy and executive councils shortly afterwards. The coronation took place more than a year later because of the tradition that holding such a festival is inappropriate during the period of mourning that follows the death of a monarch and also on account of the need to make preparations for the ceremony.
Added to timeline: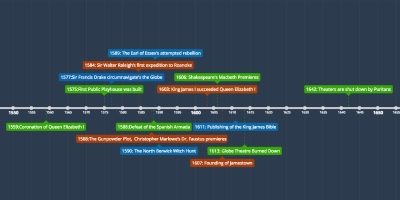 English Timeline
Each partner group completed one event and the research was ...
Date: