jan 1, 1575 - 1575:First Public Playhouse was built
Description:
The first public playhouse was built in 1576 in London, England. It was built by a English actor named James Burbage. No pictures were taken of it being built but first hand accounts describe it as a vast, polygonal, three-story timber structure, open to the sun and rain. Its exterior was coated with lime and plaster. After many plays were performed here; the Theatre unfortunately closed in 1597 due to censorship, from the Government. The theatre did not reopen and was destroyed in 1598. After the theatre was taken down, Burbage's sons took the timbers from it and used them to help build the Globe theatre.
Added to timeline: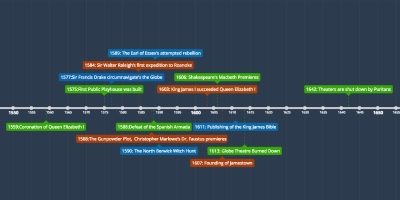 English Timeline
Each partner group completed one event and the research was ...
Date: