apr 2, 1953 - China's First Five Year Plan (1953 - 1957)
Description:
Mao had always had a firm belief that China could simultaneously achieve heightened food production and land/industrial production. In saying this, Mao had decided that in order to achieve this, an intense 5 year plan was required, where anyone who did not cooperate, was seen as counter-revolutionary, and thus eliminated effectively.
Under the first 5 Year Plan, heavy industry was what was emphasised, where like Stalin, Mao had wanted China to become a 'wartime economy.' The USSR supported their first five year plan, through the provision of strategies for development, and a loan of $300 million USD. Soviet engineers, technicians, and tradesmen were also sent abroad to China.
Industries such as steel, iron and transport were particularly targetted during this period.
By 1957, China was achieving an average of 9% annual economic growth.
The 5 year plan however made private ownership virtually impossible, for in 1953 businesses were nationalised. Therefore, the first five year plan acted as another series of events which consolidated Mao's position in power.
Added to timeline: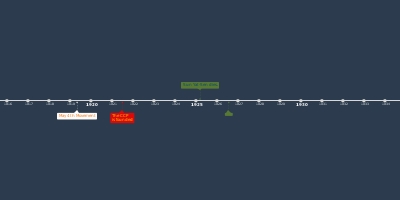 Mao's rise to power
Date: