jan 1, 1797982 BC - Homo Erectus
Description:
Homo Erectus started appearing 1.8 million years ago. They survived until 200,000 BCE. Homo Erectus was around at the same time as Homo Habilis and Australopithecus. They were the first of our ancestors to walk upright. Australopithecus and Homo Habilis both did not walk upright. Homo Erectus also lived in groups, like Homo Habilis. They made tools, but these tools had multiple purposes. Homo Erectus was the first group of humans to build and use fires. They also hunted animals. Homo Habilis ate meat, but did not hunt. Homo Erectus was also the first hominid group to leave Africa. Almost as soon as they appeared, they started leaving. They migrated to Asia and Europe. From the image, you can infer that their brains had more room than Homo Habilis's, and that they had foreheads, although they had a ridge above their eyes. The video shows you the many environments that Homo Erectus encountered. They must have evolved to survive those environments.
This information came from the Becoming Human Video and the Early Hominids website.
The image came from Dinocasts.com
Added to timeline: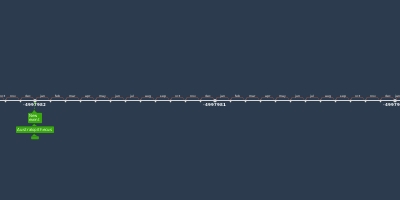 New timeline
Date:
Images:
YouTube:
Geo: