mar 28, 2111 - Lodz & Katowice claim independence
Description:
Lodz, a small city nearby the Kingdom of Poland, holds a massive revolution that sweeps the city up in revolutionary fever.
Dobreslaw, fearing a mass revolt, sent troops to quell the revolt. When the troops came, they found that the city had declared independence and was being protected by Silesia.
Dobreslaw, not wanting more war and devastation for his people, allowed the small city of Lodz it's independence.
Soon enough, Galicia-Lodomeria would have it's own problems as Katowice declares independence, is swooped up in revolution fever, and is protected by Silesia.
Lodz would follow Silesia and become a totalitarian one party state, while Katowice would become like old democratic socialist countries of the pre-war.
Added to timeline: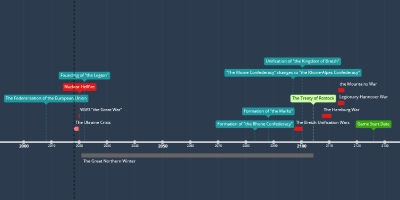 "A Legionary Dream" Timeline
Date: