mar 5, 2113 - The Rise of the Bear of Volodino.
Description:
A charming and strong young man took control of Volodino by besting the acting High Chief in hand to hand combat, ripping the Chief's head from his shoulders with his own bare hands.
He was reported to have roared like a bear, and was nicknamed as such for his size and stature.
He is a behemoth of a man, standing at nearly seven feet tall and near four hundred pounds.
However, a few years into his rule, in 2124, he'd show signs of sickness and people would begin to question his rule.
Added to timeline: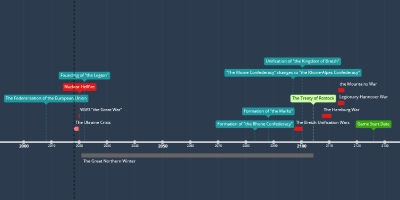 "A Legionary Dream" Timeline
Date: