mar 28, 2095 - Death of Wyladslaw of Poland, coronation of Dobresław
Description:
King Wyladslaw Wojkowski of Poland dies in this year, having died of a heart attack while giving a speech. A hasty coronation was held, and Dobresław Wojkowski was soon made King.
A middle aged man, he soon lead the Kingdom of Poland in defensive wars against all of his neighbors, winning every single war and even expanding the kingdom.
King Dobresław was nicknamed "the Hussar" for his victories and for his reliance on cavalry. He is known in all of Poland as a military genius and shrewd negotiator.
Added to timeline: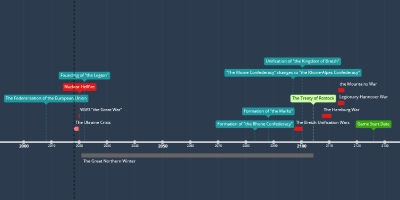 "A Legionary Dream" Timeline
Date: