jun 7, 1494 - Treaty of Tordesillas
Description:
1) Spain and Portugal divided the new world by drawing a line in the Atlantic Ocean, about 370 leagues west of the Cape Verde Islands, then controlled by Portugal.
2) All lands east of that line were claimed by Portugal and all land to the west by Spain.
3) Spain and Portugal adhered to the treaty without major conflict, and the results linger throughout America today.
4) Most Latin American nations are Spanish speaking countries, but Potuguese is the leading official language in Brazil. This is because eastern tip of Brazil penetrates the line agreed to in the Treaty. So the region was colonized by Portuguese.
Added to timeline: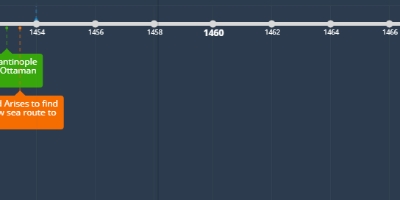 Modern History of India
Date: