feb 21, 1965 - Malcolm X Assassinated
Description:
Malcolm X was an African America leader and an important person in the Nation of Islam. He expressed values of pride for his race and black nationalism in the 1960s. He was assassinated on the 21st of February, 1965, and was made a hero, especially among black youth, when his life story "The Autobiography of Malcolm X (1965)" was released.
In school, Malcolm excelled with his studies. He lost interest in study after one of his teachers told him to become a carpenter and became rebellious. He became involved in criminal activity in Boston and turned into a street hustler, drug dealer, and leader of a gang of thieves in Roxbury and Harlem.
In 1946, he was sent to prison for robbery. There he eventually agreed joined the Nation of Islam: an African American movement that combined elements of Islam with black nationalism.
When Malcolm was released from prison, he helped lead the nation of Islam and set up temples in New York, Philadelphia, and Boston as well as cities in the south. This period was a period of growth and influence in Islam. He became minister of Boston Temple No. 11 and eventually the post of minister of Temple No. 7.
During the tough times of the Civil Rights Movement, Malcolm expressed the frustration and bitterness of African Americans. He preached on streets and spoke in major universities such as the University of Oxford and Harvard. He challenged Martin Luther King, Jr.'s notion on nonviolence and argued that more was at stake than segregation - black identity, integrity and independence were the most important issues for him.
In 1963, there were tensions between Malcolm and Elijah Muhammad over the direction of the Islam Nation. Malcolm left the nation but received death threats from the nation over the next couple of years. On the 21st of February 1965, he was assassinated by three members of the Nation of Islam.
Added to timeline: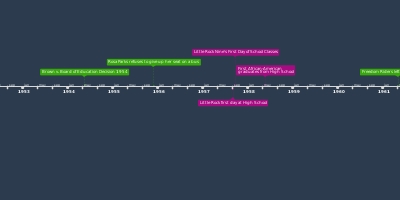 New timeline
Date: