apr 4, 1968 - The Assassination of Martin Luther King, Jr.
Description:
Martin Luther King, Jr. was an activist who played a major role in the American Civil Rights movement. He was awarded the Nobel Peace Prize in 1964 and has been remembered on Martin Luther King, Jr. Day in the U.S. since 1986.
Born on the 15th on January 1929, he was the son of Martin Luther King, Sr. who was a pastor and Alberta Williams King, a former schoolteacher. He grew up in Sweet Auburn, a neighborhood of some of the most well-known African Americans in the country.
In 1948 when he graduated, he entered Crozer Theological Seminary in Pensylvania where he earned his Bachelor of Divinity degree and was elected president of his mostly white class.
In 1954, Montgomery, where Martin Luther King, Jr. and his family were living, was the main location for the struggle of Civil Rights in America. He was chosen as the spokesman for the Montgomery Bus Boycott and was named the protest's leader.
On the 28th of August, 1963, King made perhaps one of the most famous speeches to date. His "I Have a Dream" speech was a call for pace and equality. Later that year, he was named "Man of the Year" by Time and became the youngest person to win the Nobel Peace Prize when he won it in 1964.
On the 4th of April, 1968, Martin Luther King, Jr. was assassinated. Riots swept across major cities,
Added to timeline: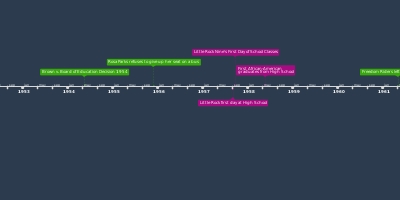 New timeline
Date: