dec 1, 1955 - Rosa Parks refuses to give up her seat on a bus
Description:
On the 1st of December, 1955, Rosa Parks, a Montgomery seamstress on her way home from work, refused to give up her seat on the bus for a white man and was arrested. She helped initiate the civil rights movement in the United States and was nationally recognized as a symbol of dignity and strength.
In 1955, segregation was written into law - Blacks sat at the back of the bus whilst whites sat at the front. There were conflicting laws, however, as one stated that segregation must be enforced whilst another said that no person should be asked to give up their seat even if there were no other seat on the bus.
Parks was found guilty of violating segregation laws after not giving up her seat, and was fined $14 in total. However, whilst this was happening, the Blacks of Montgomery boycotted the busses. 35,000 flyers had been mimeographed to be sent home with black schoolchildren, and the boycott became even larger than people had anticipated. The homes of activists were bombed and the violence began to attract attention from the national and international press. On the 13 of November 1956, the Supreme Court finally ruled that bus segregation was unconstitutional. The boycott ended one day after the Court's written order arrived in Montgomery on the 20th of December, 1956.
Added to timeline: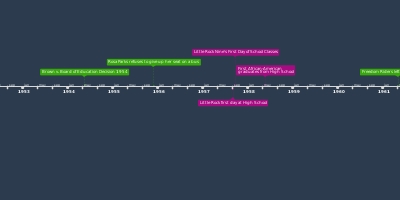 New timeline
Date: