feb 7, 1818 - Vernacular Printing
Description:
<b>Dutch missionaries- Serempore trio</b>
Dr. William Carey- (Baptist missionary society)
William Wad- Printer and missionary
Joshua Marshman – school teacher
M A Sherring (History of protestant missions in India)
"In no country in the world, and in no period in the history of Christianity, was there ever displayed such an amount of energy in the translation of the Sacred Scriptures from their originals into other tongues, as was exhibited by a handful of earnest men in Calcutta and Serampore in the first ten years of the present century. …during this short period, portions of the Bible, chiefly of the New Testament, had been translated, and actually printed, in thirty-one Indian languages and dialects. One is amazed, and almost overwhelmed, at the stupendousness of this undertaking. that these first attempts are to be ' compared with the versions which have been subsequently made in these languages…the Serampore press alone issuing them in twenty languages, and, in addition, books for schools and colleges.
Image: Wiki
William Cary, William Ward and Joshua Marshman
Added to timeline: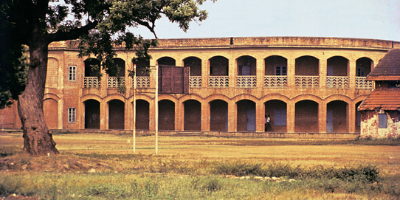 History of Education in India during Colonial Times- 1700-1947
Editors: Shivakumar Jolad, Susanna G and Pranjali Kulkarni ...
Date:
Images: