aug 24, 1787 - Adoption of Monitorial System
Description:
In 1787, Male Asylum was started at Madras by Rev. Dr. Andrew Bell, the Chaplain. It is here that Dr. Bell adopted the monitorial system from Indigenous schools, and later introduced in England. His methods are documented in book:
"An Experiment in Education made at the Male Asylum at Madras- by which a school or a Family may teach itself under the superintendence of the Master or Parent " (1798)
In the monitorial system or 'Bell-Lancaster method' as it is known in England, was based on advanced students in the class guiding other students, thus helping the teachers to monitor large classes with students from different ages and learning levels. It is said, this method, stemming from India, was primarily response for the spread of mass education and literacy in 19th Century England .
References:
References:
1. Naik, J. P., & Nurullah, S. (1974). Students' history of education in India 1800-1973. (6th Edition) MacMillan company of India limited.
pg: 31-32
2. A 19th Century Educationist Dr. Andrew Bell's Madras System A Forgotten Reformer
-Madras Musings http://madrasmusings.com/Vol%2023%20No%2014/recalling-the-madras-system.html
3. S Muthaiah - Three bells recall Bell of Madras,The Hindu- 03/03/2013. http://www.thehindu.com/thehindu/mp/2003/03/03/stories/2003030300100300.htm
Image source: http://madrasmusings.com/Vol%2023%20No%2014/recalling-the-madras-system.html
Added to timeline: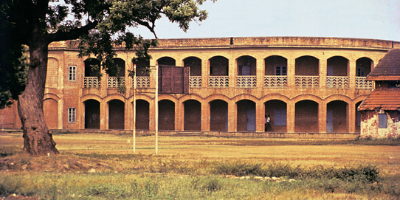 History of Education in India during Colonial Times- 1700-1947
Editors: Shivakumar Jolad, Susanna G and Pranjali Kulkarni with inputs from HS 511- Class- 2017, IIT Gandhinagar
Date:
Images: