15h 40min, jan 3, 800 y - The Disappearance of the Mayan Civilization
Description:
It is estimated that around this time the sophisticated Mayan civilization declined and vanished. The Mayans accurately calculated the length of days and built complex structures, but they suddenly disappeared. Although historians and scientists imagine that inflation and tribal warfare were causes of their decline, all that remains to tell us of the Mayan civilization are the artifacts that we find in their abandoned cities.
Added to timeline: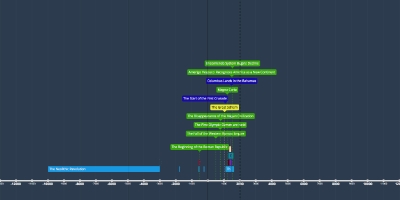 World History Significant Events Timeline
Contained in this timeline are twenty events in the history ...
Date: