jun 1, 1774 - Coercive or "Intolerable" Acts
Description:
Date: 1 June 1774
Image:
British Rationale: The colonies need to get put in their place.
Colonial Reaction: These acts are literally intolerable. The colonists gather and hold meetings discussing how to effectively cope with the actions of Parliament. They wait for the British government to understand how they have diminished the colonist's way of life.
Caption: Parliament passes a series of acts utterly offending the colonies, such as a reinvigoration of the Quartering Act, the reduction of the Massachusetts colony to a royal colony, and the closing of the Boston port. All are in response to the Boston Tea Party and other such colonial dissention from order.
Added to timeline: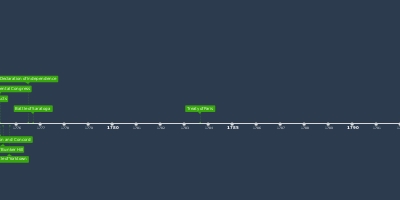 American Revolution Timeline
Date:
Images: