0h 31min, aug 26, 2013 y - John Kerry Blames Syria
Description:
The U.S. Secretary of State John Kerry said in his press briefing that all information the U.S. has, including reports of the number of victims, their symptoms, and the firsthand accounts from humanitarian organizations, strongly indicate that chemical weapons were used in Syria. He also said that Syria attempted to cover-up the incident in the days following the attack.
Syrian President Bashar Assad announced that his army did not use chemical weapons in the August 21 attack in Damascus. Assad recognized the allegation of his use of chemical weapons as "politically motivated," in his meeting with Russia's Izvestia daily.
A convoy transporting the UN investigation team of chemical weapons was attacked by snipers in Syria. No UN personnel were injured, but they were unable to visit all of the sites affected by the attack.
Added to timeline: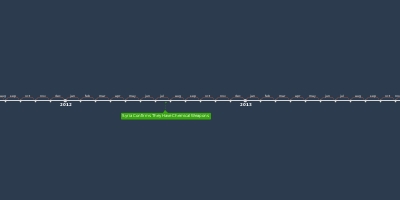 Syrian Civil War
Date: