oct 6, 1927 - "The Jazz Singer"
Description:
The Jazz Singer (El cantante de jazz o El cantor de jazz) es el primer largometraje comercial con sonido sincronizado.Nota 1​ Fue dirigido por Alan Crosland y estrenado el 6 de octubre de 1927. Esta película tuvo dos versiones posteriores, la primera de Michael Curtiz en 1952, con Danny Thomas,3​ y la segunda de Richard Fleischer en 1980, con Neil Diamond.4​
En 1996, la película fue considerada «cultural, histórica y estéticamente significativa» por la Biblioteca del Congreso de Estados Unidos y seleccionada para su preservación en el National Film Registry.
Added to timeline: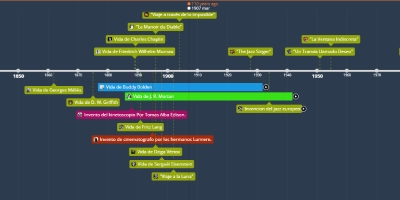 El Cine y el Jazz
Tesis

¿El cine y el jazz, dos hermanos mellizos del arte y ...
Date:
Images: