aug 4, 1964 - Start: Gulf of Tonkin Resolution
Description:
On the 1st of August 1964 there was an attack on the USS Maddox. There was supposedly another attack on the 4th of August 1964 however no proof of the attack taking place was ever found.
The Johnson administration used the August 4th attack to obtain congregational resolution, now known as the Gulf of Tonkin Resolution, that gave the president broad war powers. Followed by limited reprisal air attacks against North Vietnam.
Added to timeline: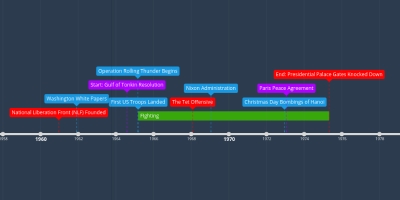 Vietnam
The Vietnam was is remembered often as the United States' mo...
Date: