jan 1, 1954 - Geneva Peace Accords
Description:
Vietnam had previously been a colony of France, however the Geneva Peace Accordance is the negotiation with Vietnam's independence. The Geneva Peace Accordance, signed by France and Vietnam in the summer of 1954, provided for the temporary partition of Vietnam at the 17th parallel, with national elections in 1956 to reunify the country. (elections never took place)
Added to timeline: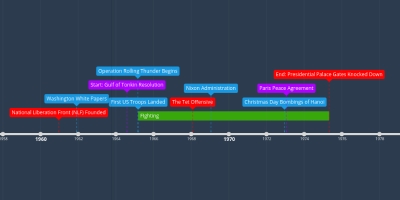 Vietnam
The Vietnam was is remembered often as the United States' mo...
Date: