jan 1, 1869 - Paul v Virginia
Description:
Story:
Samuel Paul applied in home state of Virginia to sell NY insurance
At the time, VA required foreign insurers to post a bond (NY was the first to charge 10%, with other states countering with retaliatory premium taxes)
NY insurers didn't post this bond.
Paul's application was denied.
Paul sold policies anyways and was arrested.
He appealed (based on a federal law that empowered Congress to regulate commerce with foreign nations and among states)
Supreme Court denied ruling that issuing a policy of insurance is not a transaction of commerce. The implication being that states regulate insurance
Added to timeline: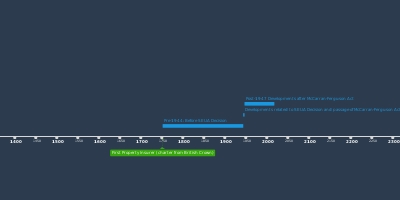 Exam 6 - History of Insurance
Date: