nov 22, 1963 - President Kennedy Assassinated
Description:
Leads to the eventual shutdown of Apollo program by Nixon, causing NASA to lose most of their funding. Causes people to lose faith in the Cold War. However, this is what pushes NASA to launch the Apollo 17 mission before the end of the decade to fulfil the wishes of the late president.
Added to timeline: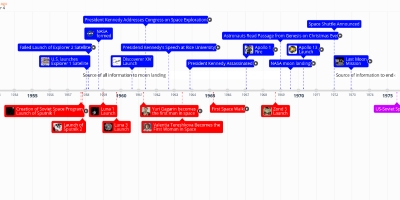 Space Race
From the launch of Sputnik 1 to the U.S.-Soviet Space Dock.
Date:
YouTube: