jun 16, 1963 - Valentia Tereshkova Becomes the First Woman in Space
Description:
Valentia Tereshkova was a 26-year-old textile worker before the Vostok 6 mission. She is wearing a SK-2 suit, an SK-1 suit modified for a female. Vostok 5 and Vostok 6 were launched a dual mission and became within 3 miles of each other before drifting apart. After 48 orbits around the Earth, Tereshkova used manual controls to reenter the atmosphere and ejected to land.
Infographic on Vostok 6:
https://www.space.com/21558-valentina-tereshkova-first-woman-space-infographic.html
Added to timeline: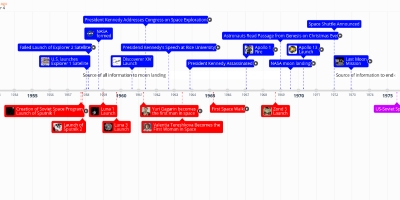 Space Race
From the launch of Sputnik 1 to the U.S.-Soviet Space Dock.
Date:
Images: