jan 28, 1797 - Heat generated by boring cannon - Ben Thomaspon
Description:
Joule's apparatus for measuring the mechanical equivalent of heat in which the "work" of the falling weight is converted into the "heat" of agitation in the water.
Benjamin Thompson, Count Rumford, had observed the frictional heat generated by boring cannon at the arsenal in Munich, Germany circa 1797. Rumford immersed a cannon barrel in water and arranged for a specially blunted boring tool. He showed that the water could be boiled within roughly two and a half hours and that the supply of frictional heat was seemingly inexhaustible. Based on his experiments, he published "An Experimental Enquiry Concerning the Source of the Heat which is Excited by Friction", (1798), Philosophical Transactions of the Royal Society p. 102. This scientific paper provided a substantial challenge to established theories of heat and began the 19th century revolution in thermodynamics.
Added to timeline: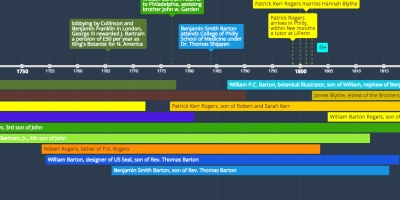 Bartram Barton
Date: