jul 20, 2018 - SingHealth Data breach
Description:
https://www.straitstimes.com/singapore/singapores-privacy-watchdog-to-investigate-singhealth-data-breach
SINGAPORE - Singapore's privacy watchdog will be investigating the cyber attack on healthcare group SingHealth, which resulted in the biggest data breach in Singapore.
The Personal Data Protection Commission (PDPC) has been notified about the incident, said a spokesman for the Ministry of Communications and Information (MCI) on Tuesday (July 24) in response to queries from The Straits Times.
The spokesman said that SingHealth and the Integrated Health Information Systems, the technology outsourcing arm of public hospitals here, are corporate entities.
This means that they are bound by the Personal Data Protection Act, which requires organisations to put in place adequate security measures to protect consumers' personal data. Organisations flouting the Act, in force since July 2014, can be fined up to $1 million.
Added to timeline: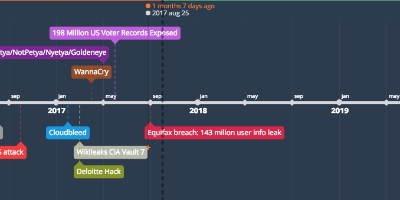 CyberSecurityAssessor.ninja
Date: