jan 1, 77 - "Natural History" completed
Description:
Pliny the Elder's sole surviving complete work. This is the piece of literature for which he is known even in the modern world.
While Pliny the Elder was a prolific writer, this is the only work that survives as more than small bits and pieces to the modern day. While writers up to this point had primarily focused on making their own point or convincing the reader of something, Pliny the Elder was the first known person to work on merely chronicling knowledge without any further agenda. His work was the first massive collection of knowledge that could be used as a reference document. It included a huge variety of subjects and seems to have been purely an attempt to gather and document the sum of human knowledge up to that point.
While science in the year 77 was far from advanced and much of the information contained in this was inaccurate, it remained a well used reference document for centuries after, which ensured its survival to the modern day.
Source:
Constable, &. R. (2008). 100 most influential scientists. Retrieved from https://ebookcentral-proquest-com.ezproxy1.apus.edu
Added to timeline: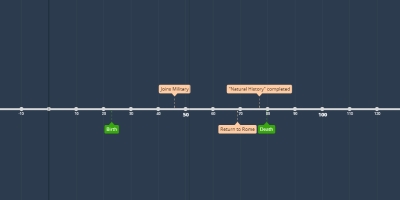 Gaius Plinius Secundus, 23-79 C.E.
Timeline of the life of Pliny the Elder
Date: