jan 1, 1796 - Edward Jenner Vaccination
Description:
|1796|
STORY:
In the 18th century smallpox was the biggest killer of children. It also killed thousands of adults and left survivors with terrible scars. It was spread very easily from person to person.
Since the 1720's doctors had inoculated children by infecting them with a mild version of the disease. But it was very risky as it could still kill and only the rich could afford it.
Jenner made the link between cowpox victims and smallpox immunity. He used scientific methods to prove his theory and was successful but the Royal Society refused to publish his discoveries. So he paid to publish his own book, 'An Enquiry into the Causes and Effects of the Variola Vaccinae', Which included detailed instructions for vaccination so people could copy it for themselves.
By 1800, ~100,000 people had been vaccinated worldwide but it was still unpopular in Britain. By 1804 12,000+ British people had been vaccinated.
OPPOSITION TO VACCINATION:
Many people opposed Jenner's work because:
- They thought it was wrong to give a human an animals disease
- It interfered with gods plan
- Doctors lost money when the government offered vaccination free
- Some doctor didn't do the vaccination process properly, leading to accidents which gave vaccination a bad name
JENNER'S IMPORTANCE:
He proved scientific methods could lead to a disease being wiped out. However:
- He didn't know why it worked
- The link between cowpox and smallpox was so unique it couldn't be copied for other diseases.
- Other disease were still killing people
Added to timeline: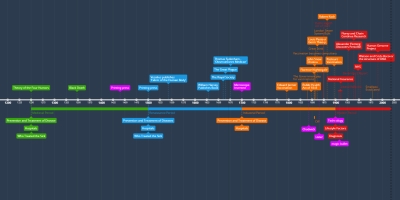 GCSE Medicine
Work in progress
Date: