jan 1, 1250 - Prevention and Treatment of Disease
Description:
Treatments:
Bloodletting was removing blood from the body
to balance the humours. It was done by
cupping, bleeding or leeching. It was sometimes
performed by physicians but usually by barber
surgeons.
Purging was forcing a patient to vomit or go to
the toilet to remove unbalanced humours.
Emetics and laxatives were prescribed by
physicians and mixed by apothecaries and wise
women.
There were three types of prevention:
- Supernatural:
- Specific treatment including hanging a
magpies beak around your neck
- Religious
- Praying
- Fasting
- Going on pilgrimages
- Rational
- Keeping streets clean
- Bathing and washing
- Bleeding and Purging
Added to timeline: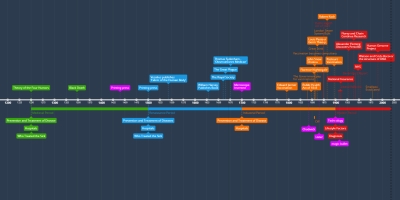 GCSE Medicine
Work in progress
Date: