sep 30, 1926 - Live Television
Description:
-John Logie Baird set up the Baird Television Development Company in 1926 on 30 September 1929 he made the first experimental television broadcast for the BBC from its studio in Long Acre in the Covent Garden area of London via the BBC's London transmitter.
-The simultaneous transmission of sound and pictures was achieved on 30 March 1930, by using the BBC's new twin transmitter at Brookmans Park. By late 1930, thirty minutes of morning programmes were broadcast from Monday to Friday, and thirty minutes at midnight on Tuesdays and Fridays after BBC radio went off the air.
-The BBC began its own regular television programming from the basement of Broadcasting House, London, on 22 August 1932.
Added to timeline: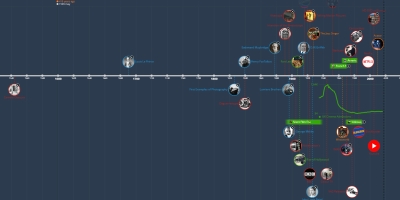 History of Film
Date:
Images: