feb 14, 2005 - Youtube
Description:
-YouTube allows users to upload, view, rate, share, add to favourites, report, comment on videos, and subscribe to other users.
-YouTube began as a venture capital-funded technology startup, primarily from an $11.5 million investment by Sequoia Capital between November 2005 and April 2006.
-The first YouTube video, titled Me at the zoo, shows co-founder Jawed Karim at the San Diego Zoo.[14] The video was uploaded on April 23, 2005, and can still be viewed on the site.
-According to third-party web analytics providers, YouTube is the second-most visited website in the world, as of December 2016 it is also listed as the top TV and video website globally, attracting more than 15 billion visitors per month.
-Now YouTube has an estimated Worth of $70 billion for Google, Bank of America Analyst Says.
Added to timeline: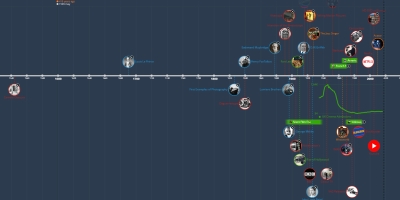 History of Film
Date:
Images: