jan 1, 2005 - HD DVD vs Blu-ray
Description:
-The battle to power high-definition home video began in the mid-2000s as more people began to invest in HD-Ready TVs.
-There were two contenders in this battle of the souped-up DVD player - HD-DVD and Blu-ray.
-The two sides did hold peace talks in 2005 hoping to avoid a format war, but when negotiations failed, Toshiba invested over £600m in HD-DVD and launched a host of players as well as stand-alone players for the Xbox 360 console.
-But Sony gave its format a huge boost when it integrated a Blue-ray drive directly into the PlayStation 3 console
-Blu-ray discs could also handle 50GB of content (compared to HD-DVDs 30GB) and also earned support of more studios. When Warner Brothers exclusively committed to Blu-ray in January 2008, the war was all but won and Toshiba threw in the towel.
Added to timeline: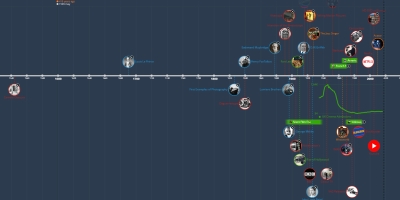 History of Film
Date:
Images:
YouTube: