aug 29, 1997 - Netflix
Description:
-Netflix specialises in and provides streaming media and video-on-demand online and DVD by mail. In 2013, Netflix expanded into film and television production, as well as online distribution.
-Netflix introduced the monthly subscription concept in September 1999, and then dropped the single-rental model in early 2000. Since that time, the company has built its reputation on the business model of flat-fee unlimited rentals without due dates, late fees, shipping and handling fees, or per-title rental fees.
-In 2000, Netflix offered to be acquired by Blockbuster for $50 million, but the offer was declined.
Added to timeline: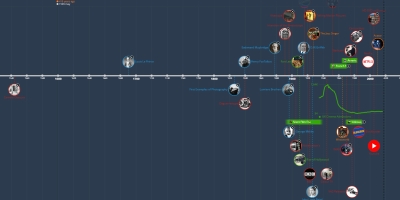 History of Film
Date:
Images: