jan 1, 1952 - 3D Film
Description:
-The "golden era" of 3D began in late 1952 with the release of the first colour stereoscopic feature, Bwana Devil.
-The stereoscopic era of motion pictures began in the late 1890s when British film pioneer William Friese-Greene filed a patent for a 3D film process. In his patent, two films were projected side by side on screen. The viewer looked through a stereoscope to converge the two images.
-The earliest confirmed 3D film shown to an out-of-house audience was The Power of Love, which premiered at the Ambassador Hotel Theater in Los Angeles on 27 September 1922.
-It was projected dual-strip in the red/green anaglyph format, making it both the earliest known film that utilised dual strip projection and the earliest known film in which anaglyph glasses were used.
Added to timeline: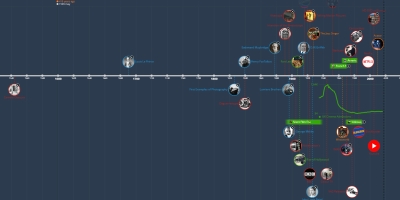 History of Film
Date:
Images:
YouTube: