jan 1, 1983 - Camcorders
Description:
-Video cameras originally designed for television broadcast were large and heavy, mounted on special pedestals and wired to remote recorders in separate rooms. As technology improved, out-of-studio video recording was possible with compact video cameras and portable video recorders.
-Sony released the first consumer camcorder in 1983, the Betamovie BMC-100P. It used a Betamax cassette and rested on the operator's shoulder, due to a design not permitting a single-handed grip.
-That year, JVC released the first VHS-C camcorder. Kodak announced a new camcorder format in 1984, the 8 mm video format.
-The earliest camcorders were tape-based, recording analog signals onto videotape cassettes. In 2006, digital recording became the norm, with tape replaced by storage media such as internal flash memory and SD cards.
Added to timeline: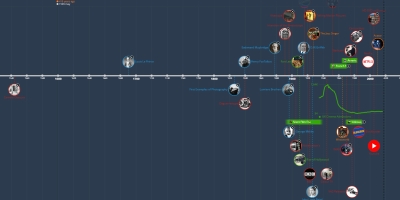 History of Film
Date:
Images:
YouTube: