jan 1, 1975 - Stedicam
Description:
-A Steadicam combines the stabilised steady footage of a conventional tripod mount with the fluid motion of a dolly shot and the flexibility of hand-held camera work. While smoothly following the operator's broad movements, the Steadicam's arm absorbs jerks, bumps, and shakes, while its almost friction less gimbal gives precise control of the camera and framing.
-The Steadicam was introduced to the industry in 1975 by inventor and cameraman Garrett Brown, who originally named the invention the "Brown Stabiliser".
-The Steadicam was first used in the Best Picture–nominated Woody Guthrie biopic Bound for Glory 1976, debuting with a shot that compounded the Steadicam's innovation.
Added to timeline: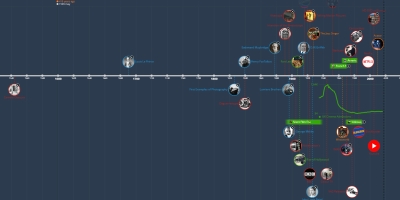 History of Film
Date:
Images:
YouTube: