aug 16, 1944 - Colour TV
Description:
-As early as 1940, Baird had started work on a fully electronic system he called the "Telechrome". Early Telechrome devices used two electron guns aimed at either side of a phosphor plate.
-A demonstration on August 16, 1944 was the first example of a practical color television system. Work on the Telechrome continued and plans were made to introduce a three-gun version for full color. However, Baird's untimely death in 1946 ended development of the Telechrome system.
Added to timeline: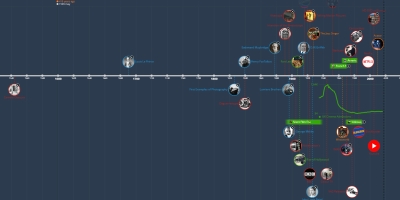 History of Film
Date:
Images:
YouTube: