jan 26, 1926 - John Logie Baird
Description:
-John Logie Baird was a Scottish engineer, innovator, one of the inventors of the mechanical television, demonstrating the first working television system on 26 January 1926, and inventor of both the first publicly demonstrated colour television system, and the first purely electronic colour television picture tube.
-In his laboratory on 2 October 1925, Baird successfully transmitted the first television picture with a grey scale image: the head of a ventriloquist's dummy nicknamed "Stooky Bill" in a 30-line vertically scanned image, at five pictures per second.
-On 26 January 1926, Baird repeated the transmission for members of the Royal Institution, By this time, he had improved the scan rate to 12.5 pictures per second. It was the first demonstration of a television system that could broadcast live moving images with tone graduation.
Added to timeline: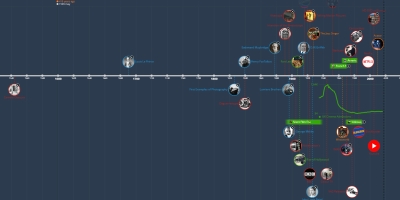 History of Film
Date:
Images:
YouTube: