dec 15, 1939 - Gone With the Wind
Description:
-GWTW is a highly influential film which changed perceptions of story line (social) and production constraints.
- The film is regarded as one of the greatest films of all time; it has placed in the top ten of the American Film Institute's list of top 100 American films since the list's inception in 1998, and in 1989, the United States Library of Congress selected it for preservation in the National Film Registry.
-It set records for the total number of wins and nominations at the time. The film was immensely popular, becoming the highest-earning film made up to that point, and retained the record for over a quarter of a century.
-Gone with the Wind and its production have been explicitly referenced, satirised, dramatised and analysed on numerous occasions across a range of media, from contemporaneous works such as Second Fiddle, to current television shows, such as The Simpsons.
-When adjusted for monetary inflation, it is still the most successful film in box-office history, making a staggering $3.3bn.
Added to timeline: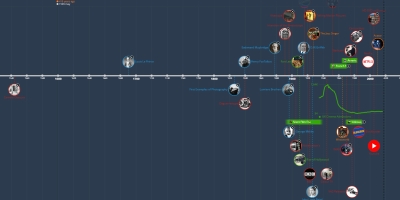 History of Film
Date:
Images:
YouTube: