oct 6, 1927 - The Jazz Singer
Description:
-The Jazz Singer is a 1927 American musical film. As the first feature-length motion picture with not only a synchronized recorded music score, but also lip-synchronous singing and speech in several isolated sequences.
-Its release heralded the commercial ascendance of sound films and the decline of the silent film era.
-In total, the movie contains barely two minutes worth of synchronized talking, much or all of it improvised. The rest of the dialogue is presented through the caption cards.
-In 1998, the film was chosen in voting conducted by the American Film Institute as one of the best American films of all time, ranking at number ninety.
Added to timeline: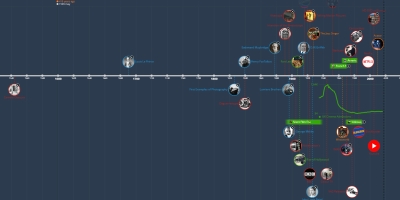 History of Film
Date:
Images:
YouTube: