jan 1, 1923 - Talking Motion Pictures
Description:
-The primary steps in the commercialization of sound cinema were taken in the mid- to late 1920s. At first, the sound films which included synchronized dialogue, known as talking pictures, or talkies, were exclusively shorts.
-The first feature film originally presented as a talkie was The Jazz Singer, released in October 1927, by Warner Bros Studios.
-By the early 1930s, the talkies were a global phenomenon. In the United States, they helped secure Hollywood's position as one of the world's most powerful cultural/commercial centers of influence.
-In Europe, the new development was treated with suspicion by many filmmakers and critics, who worried that a focus on dialogue would subvert the unique aesthetic virtues of soundless cinema.
Added to timeline: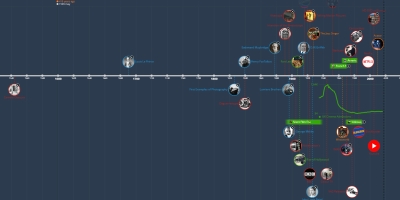 History of Film
Date:
Images:
YouTube: