jan 1, 1910 - Rise of Hollywood
Description:
-In early 1910, director D. W. Griffith was sent by the Biograph Company to the west coast with his acting troupe. They started filming on a vacant lot near Georgia Street in downtown Los Angeles. While there, the company decided to explore new territories, traveling several miles north to Hollywood, a little village that was friendly and enjoyed the movie company filming there.
-After hearing about Griffith's success in Hollywood, in 1913, many movie-makers headed west to avoid the fees imposed by Thomas Edison, who owned patents on the movie-making process.Nestor Studios of Bayonne, New Jersey, built the first studio in Hollywood in 1911.
-In Los Angeles, the studios and Hollywood grew. Before World War I, movies were made in several U.S. cities, but filmmakers tended to gravitate towards southern California as the industry developed. They were attracted by the warm climate and reliable sunlight, which made it possible to film movies outdoors year-round and by the varied scenery that was available.
Added to timeline: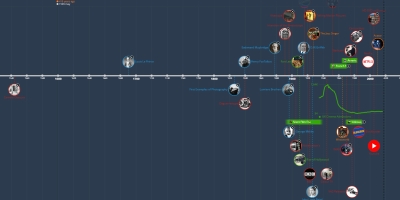 History of Film
Date:
Images:
YouTube: