jan 1, 1907 - Fort Lee
Description:
-The history of cinema in the United States can trace its roots to the East Coast where, at one time, Fort Lee, New Jersey was the motion picture capital of America.
-Film-making began attracting both capital and an innovative workforce, and when the Kalem Company began using Fort Lee in 1907 as a location for filming in the area, other filmmakers quickly followed. In 1909, a forerunner of Universal Studios, the Champion Film Company, built the first studio.
-However, filmmakers were being charged by Edison to create films due to his equipment and inventions which they were using to film. If filmmakers didn't pay up Edison was known to use heavy handed and brutish tactics to get them to give into his demands. This included getting his 'trusted men' to destroy film sets and came equipment.
Added to timeline: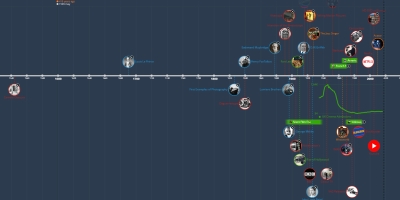 History of Film
Date:
Images:
YouTube: