jan 1, 1905 - Nickelodeon's
Description:
-The Nickelodeon was the first successful permanent theatre showing only films, and opened in Pittsburgh in 1905.
-By then there were enough films several minutes long available to fill a programme running for at least half an hour, and which could be changed weekly when the local audience became bored with it.
-The earliest films had been shown in "peep show" machines or projected in vaudeville theaters as one of the otherwise live acts. Nickelodeons drastically altered film exhibition practices and the leisure-time habits of a large segment of the American public.
-Other exhibitors quickly followed suit, and within a couple of years there were thousands of these nickelodeons in operation worldwide.
Added to timeline: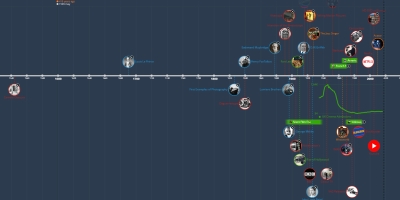 History of Film
Date:
Images:
YouTube: