may 1, 2015 - Stakeholder for technology eliminating millions of jobs
Description:
Long distant truck driving, taxi and bus operators and even the drivers who helped uber build its treasure trove will be affected by the time you factor in these jobs 3% of the workforce is at risk. Stakeholders want to keep their jobs, so they are not in favor of those with jobs on the road. Many car services will also loose their jobs and have negative effects on the population of job seekers that is already overcrowded. One forecaster thinks that the industry will shrink by 60 percent by 2040.
Added to timeline: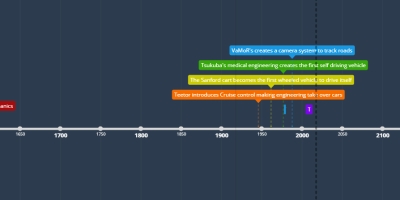 Self-driving cars' evolution timeline
This timeline goes through the major events that led to prod...
Date:
YouTube: