jun 10, 1850 - Navigation Chart
Description:
-The Marshall Islands in eastern Micronesia consist of thirty-four coral atolls consisting of more than one thousand islands and islets spread out across an area of several hundred miles.
-Marshall Islanders built seafaring canoes. These vessels were both quick and manoeuvrable. The islanders developed a reputation for navigation between the islands—not a simple matter, since they are all so low that none can be seen from more than a few miles away.
This chart (above) is of a type known as a rebbelib, which cover either a large section or all of the Marshall Island
-The charts were composed of wooden sticks; the horizontal and vertical sticks act as supports, while diagonal and curved ones represent wave swells. Cowrie or other small shells represent the position of the islands
Added to timeline: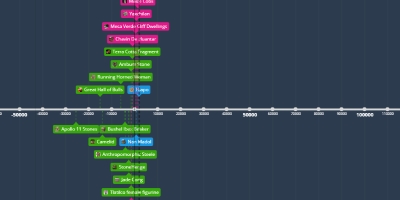 APAH Timeline
Date:
Images: