oct 11, 1790 - Tamati Waka Nene
Description:
After a person has died their portrait may be hung on the walls of family homes and in the wharenui (the central building of a community center), to be spoken to, wept over, and cherished by people with genealogical connections to them.
Nene wears a kahu kiwi, a fine cloak covered in kiwi feathers, and an earring of greenstone or pounamu. Both of these are prestigious taonga or treasures. He is holding a hand weapon known as a tewhatewha, which has feathers adorning its blade and a finely carved hand grip with an abalone or paua eye. All of these mark him as man of mana or personal efficacy and status. But perhaps the most striking feature for an international audience is his intricate facial tattoo, called moko.
Added to timeline: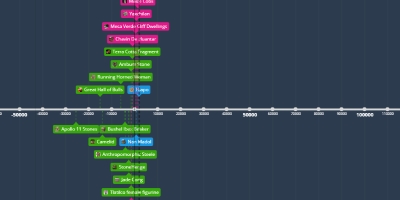 APAH Timeline
Date:
Images: