feb 12, 1850 - Female Deity
Description:
Nukuoro: small isolated atoll in the archipelago of the Caroline islands. Located in Micronesia, a region in the western pacific. It has been inhabited since the 18th century. Polynesian settlers arrived at the island and brought with them the idea of hierarchy and rank. Used aesthetic principles such as carvings of stylized human figures as well as Micronesian aspects such as navigation, Canoe-building and loom weaving with banana fiber.
Called a Polynesian outlier.
Juan Bautista Monteverde was the first European explorer to find the atoll in February of 1806.
30-217 cm, smoothed surfaces, ovoid head and a columnar neck, eyes and neck shown as slits or not at all.
Placed in temples and decorated. Placed for important religious ceremonies. Dances were performed and women were tattooed. The sculptures were considered the resting place for a god or a deified ancestors spirit.
Added to timeline: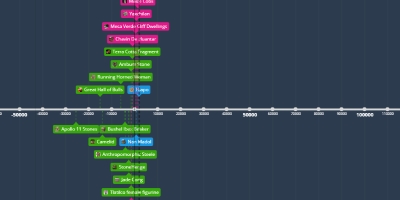 APAH Timeline
Date:
Images: