feb 14, 700 - Nan Madol
Description:
-Evidence of the earliest human activity dates back to the first or second century BC. The
construction of artificial islets started probably about 8th and 9th century AD.
-The complex of Nan Madol is constructed on a series of artificial islets in the shallow water next to
the eastern shore of the Pohnpei island. The site encloses an area approximately i.5 km long by 0.5
km wide and it contains nearly 100 artificial islets.
-The rulers forced local chieftains to leave their home villages and
move to the city where their activities could be more closely observed.
-Most of the islets served as residential area, however some of them served special purpose, such as
food preparation, coconut oil production or canoe construction.
-The centerpiece of the whole complex is
the royal mortuary at the islet of Nandauwas, with its 7.Sm high walls surrounding the central tomb
enclosure.
-There are no sources of fresh water or possibilities to grow food on
Nan Madol so all supplies had to be brought in from the mainland. The population of the city
probably included a large number of commoner servants.
Nan Madol is the biggest center of the culture which left numerous other megalithic structures
scattered on neighboring shores and on main island of Pohnpei; it all can be found in the area of
about 18 square kilometers.
Added to timeline: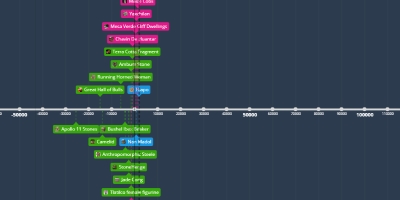 APAH Timeline
Date:
Images: